Regular price
₹ 1,899
Sale price
₹ 1,599
Unit price
per
Sale
Sold out
Free 1-5 days shipping from Mumbai/Delhi
Express shipping

Cash On Delivery

24/7 Support
How to order

Place the order here
Then we call to confirm
We dispatch in 24 hours
Delivery in 3-5 days
✔️ Scientifically proven to provide lasting relief from foot pain

✔️Instant Relief from Plantar Fasciitis & Swelling

✔️New method "Shockwave Stimulation Massage" - Improves Blood circulation, alleviates stiffness, soreness in feet and relieves Neuropathy
naturally (without Harsh Painkillers)

✔️Healthier legs in just 30 days or your Money-back

✔️Enjoy free Shipping Today and receive a free eBook

Healthier legs after just 15 minutes of use per day

This Revolutionary massager, deeply stimulates foot and leg muscles through low-frequency electrical pulse, target trigger points and alleviates tension at the source

☑️ Relieves Plantar Fasciitis & inflammation.
☑️ Extremely effective solution for high blood pressure
☑️ Relieves leg swelling, improves Blood circulation by stimulating specific trigger points
☑️ 96.6% of Users Reported Feeling Immediate
☑️ Relief 45-Day Money Back Guarantee

Professionally Recommended to Treat Plantar Fasciitis & Swollen Feet 91% More Effectively

Plantar Fasciitis can often lead to further Foot Pain

If Plantar Fasciitis is not treated correctly, it can lead into further health issues. Some common issuesthat result fromuntreated plantar fasciitis are: Chronic heel pain that prevents your regular activities. You're likely to change your walk to try to avoid the plantar fasciitis pain, which might lead to foot, knee, or back problems.

The "Shockwave Stimulation Massage" is a new method Recommended by podiatrists to Relieve Foot Pain

Shockwave Stimulation Massage works by hitting specific trigger points on the foot sole, which don't get enough blood flow and are responsible for plantar fasciitis. This way it achieves high-blood circulation in those areas and as a result it slowly activates your feet again and gets rid of pain & plantar fasciitis. It also reduces the appearance of cellulite lumps on the leg and thigh areas. If you sit long hours for every day, this method will provide you with complete relief.

☑️ Restores the health of your feet
☑️ Heal damaged tissues by increasing blood flow to the area.
☑️ Doctor designed & recommended
☑️ Instant feeling of relief and bliss

96.6% of our Customers Reported Feeling Immediate Relief

You won't believe how amazing this massager works to facilitate better blood circulation and reduce the appearance of cellulite lumps on the leg and thigh areas. If you sit at a desk all day, this foot massager will provide you with complete relief.
☑️ 96.6% of our customers felt instant foot pain relief
☑️ 91.5% of our customers reported visible reduction in swelling
☑️ 90.9% of our customers COMPLETELY Healed Plantoar Fasciitis
☑️ 94.3% of our customers are using it daily and have recommended it to their friends & family

How To Use:

After a long day of hard work or even simply wearing a pair of uncomfortable shoes, just 15 minutes per day relaxes your feet, helps you maintain healthy blood circulation in your legs, provides fast-acting relieffrom swollen legs and feet, and eases tired, aching feet.

1. Attach the operator device to the foot mat, which uses three buttons to control different functions.
2. Place both feet on the floor, press the "+" or" button to turn on the device, and adjust the intensity. Press"M"to switch the modes.
3. You are ready to experience a clinic-like massage in your own space. For effective results, use for 10-15 minutes a day, 3-4 days a week.

☑️ 8 Modes - To meet your massage needs, intelligent artificial massage techniques can be freely combined according to personal preferences and the level of physical stress.
☑️ 18 Adjustables intensity - Directly stimulate the acupuncture points, reduce physical and mental fatigue, and improve sleep.
Thousands of People Were Able to
Reverse Neuropathy With This Device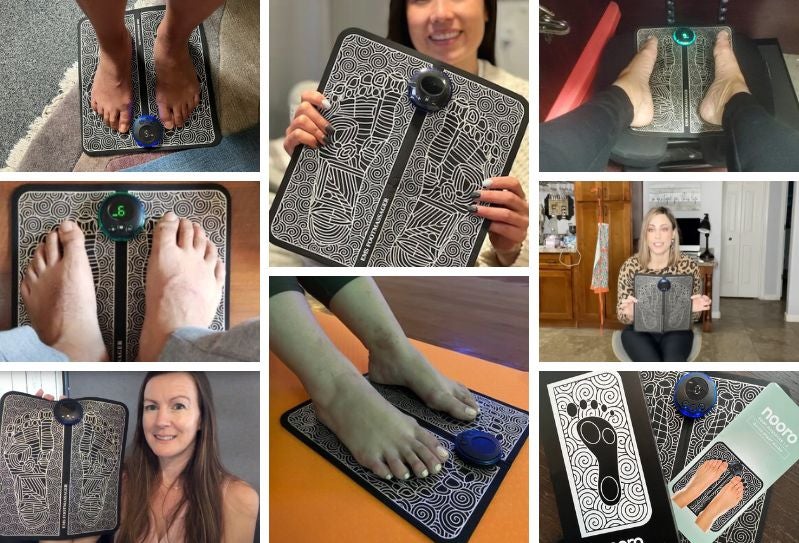 If you check out website, you will find thousands of reviews from people just like you who were able to completely reverse neuropathy:

View full details